Many interior designers have found that the requests for their services have actually increased as a result of the coronavirus lockdown. Two months of confinement indoors has forced their clients to confront their urgent need for interior design services!
However, now that summer is upon us, everyone's attention has been redirected to their outdoor spaces, and our minds are occupied by the all-consuming question: is the garden ready for my first summer soiree? Take the first step to summer soiree perfection by stopping by Hines to explore our selection of the finest in outdoor furnishings, fabric, trim, carpet, and lighting.
Furniture: Link Outdoor and George Smith
The first order of the day for a perfect summer's afternoon: a proper place to rest one's Pimm's Cup.
Link's latest spring collection fulfills this need admirably, most notably with the new
Arie Side Table
. Hand carved from solid marble, this sculptural piece provides the perfect accent to just about any outdoor space.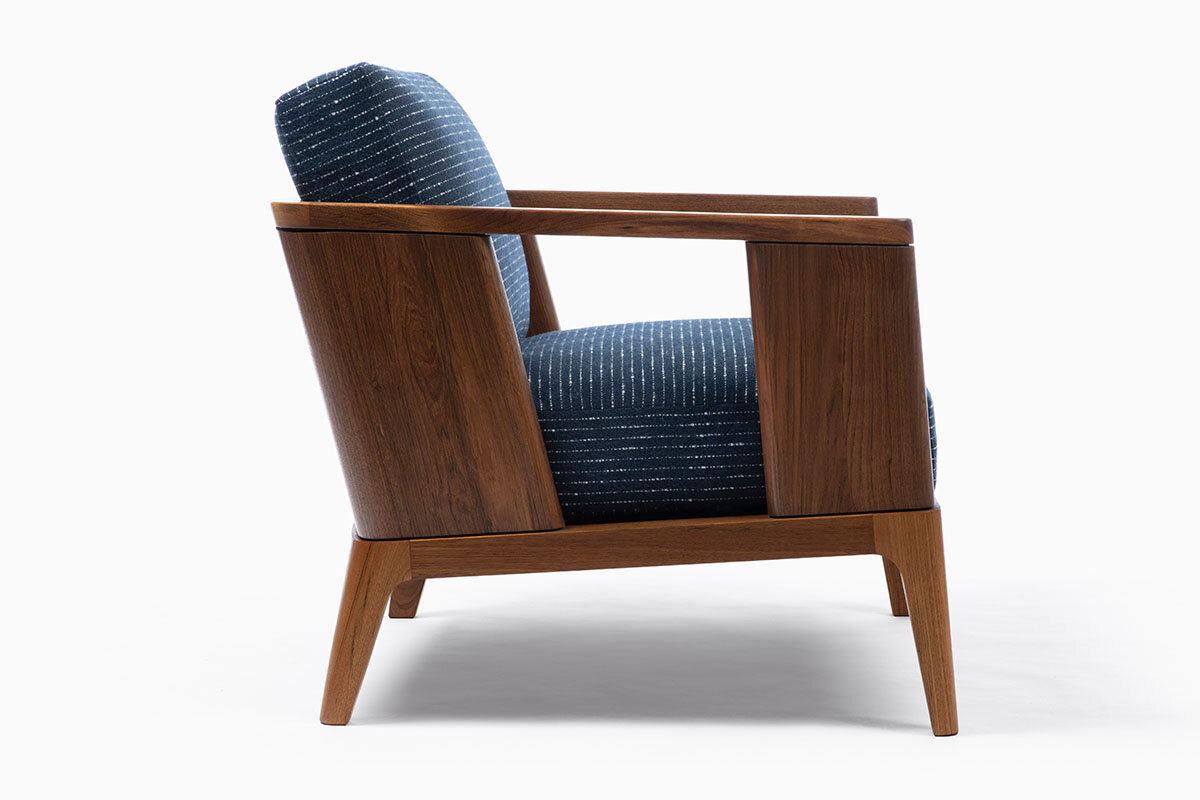 Photo: Link Outdoor Malibu Lounge Chair
Link's new
Malibu Collection
, designed by Josef Jeup, combines a clean-line aesthetic with Link's signature superb construction details. Constructed of premium-aged teak, this versatile collection is equally at home in a casual outdoor setting or an elegant interior space.
Sip your cocktail in style on one of
George Smith's
sofas, lounge chairs or chaises. Nearly of their lounge pieces can be created in high-performance, weather-grade materials. There's no reason to deny oneself the comforts of home while outdoors.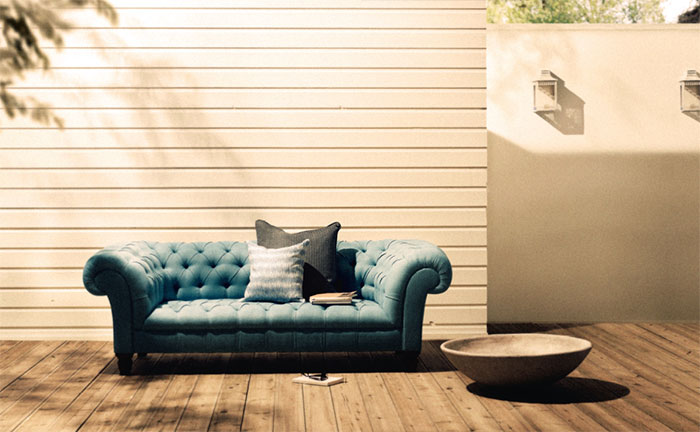 Photo: George Smith
Fabrics: Pierre Frey, Jim Thompson, Bart Halpern, Kerry Joyce, and C&C Milano
Much has been said about bringing the outdoors in, but now you can bring the comfort of the indoors out with our newest collections of indoor/outdoor fabrics. Available in an impressive range of textures, from fluffy and woolly to delicately sheer, all of our indoor/outdoor fabrics are strong enough to resist heat, sunlight, salt and chlorinated water.
​Jim Thompson No. 9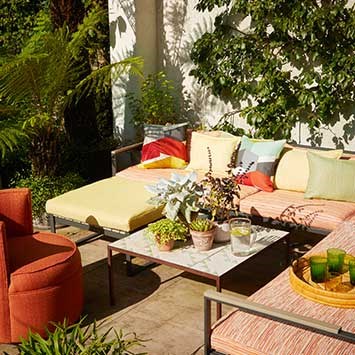 Photo: Jim Thompson No. 9 Medina Collection
Jim Thompson has just added new colors to their best-selling outdoor woven,
Tunis
, which now has 44 to choose from! Woven with multicolored heathered yarns, this versatile, chunky-textured fabric has become a designer favorite.
Medina
, the eponymous fabric from the spring 2020
Medina Collection
, provides an energetic pop of color and pattern. The abstract design of this multicolor jacquard was inspired by the historic architecture in the old part of Moroccan towns. Both Tunis and Medina are high-performance fabrics, boasting 56,000 and 40,000 double rubs, respectively.
Pierre Frey
If you've been seeking durable outdoor linen, look no further than
Golfe
from Pierre Frey's Spring 2020
Reveries Orientales Collection
. This versatile two-tone linen canvas comes in 25 colorways.
Our clients can't get enough of the Pierre Frey
Natecru
Indoor/Outdoor fabric collection. Ranging from silky to woolly, these understated neutrals never fail to astonish with their delicate textures and soft hand. Many of the Natecru line fabrics are 30,000 double rubs and above, making them the obvious choice for chic hospitality spaces.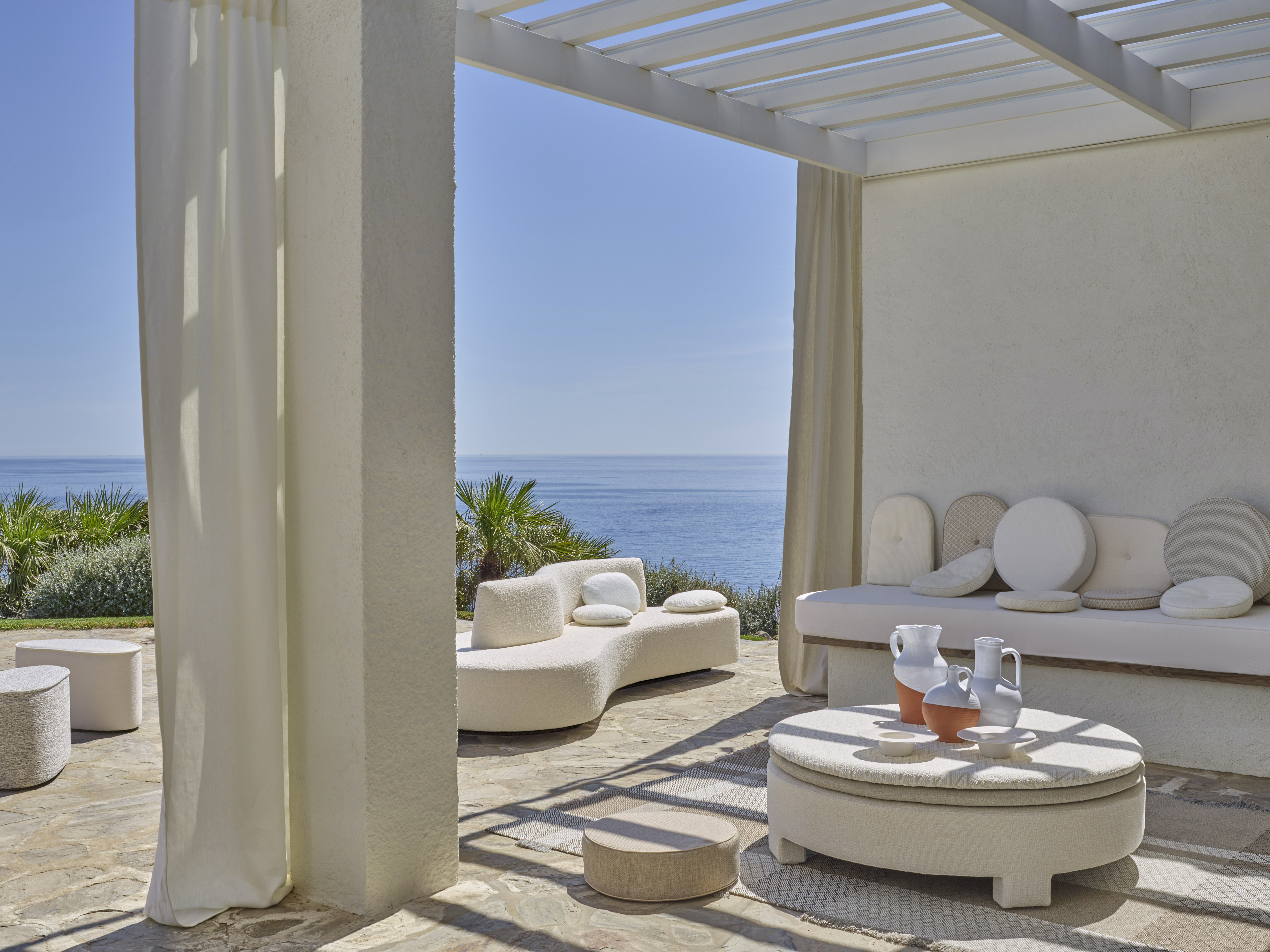 Photo: Pierre Natecru Indoor/Outdoor Collection
Bart Halpern
One of our newest lines,
Bart Halpern
is known for its subtle, sophisticated color palette, and unusual textures achieved with fashion-influenced pleating. Their outdoor fabrics are second to none in their refinement.
Kerry Joyce
Nothing says summer like crisp, elegant sheers, and no one does high-performance sheers like
Kerry Joyce
. These 100% solution-dyed polyacrylic fabrics will add lasting beauty to any outdoor setting.
C&C Milano
There's no reason to shy away from specifying leather in outdoor settings, provided that one specifies the right leather. You can't go wrong with C&C Milano's
Miura
Outdoor/Indoor leather. With its supple hand and smooth finish, one would never guess that this leather is sunlight and mold-resistant, and treated to withstand the elements. With 250,000 double rubs, you can expect to enjoy this product for years to come.
Trim: Samuel & Sons, Link Outdoor, and Kerry Joyce Performance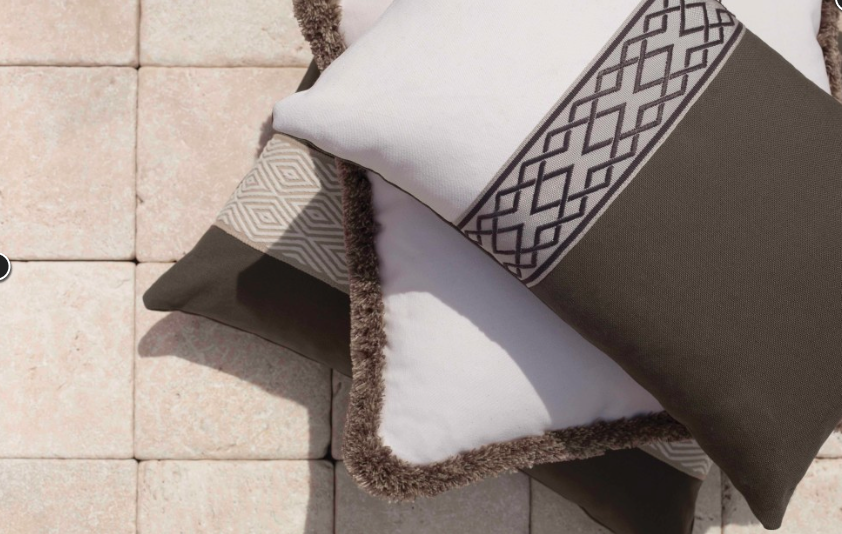 Photo: Samuel & Sons Saisons Collection
Samuel & Sons
To enjoy the great outdoors does not, in our opinion, require that one forgo beautiful passementerie. The
Saisons Collection
from Samuel & Sons is a luxury performance trimming woven in 100% Bella Dura solution-dyed polyolefin.
Link Outdoor
also has an extensive range of trim to perfectly complement their
fabric collection
.
And don't forget that the
Kerry Joyce Performance
line has a beautiful selection of trim designed to withstand the rigors of the great outdoors.
Carpet: Pierre Frey and C&C Milano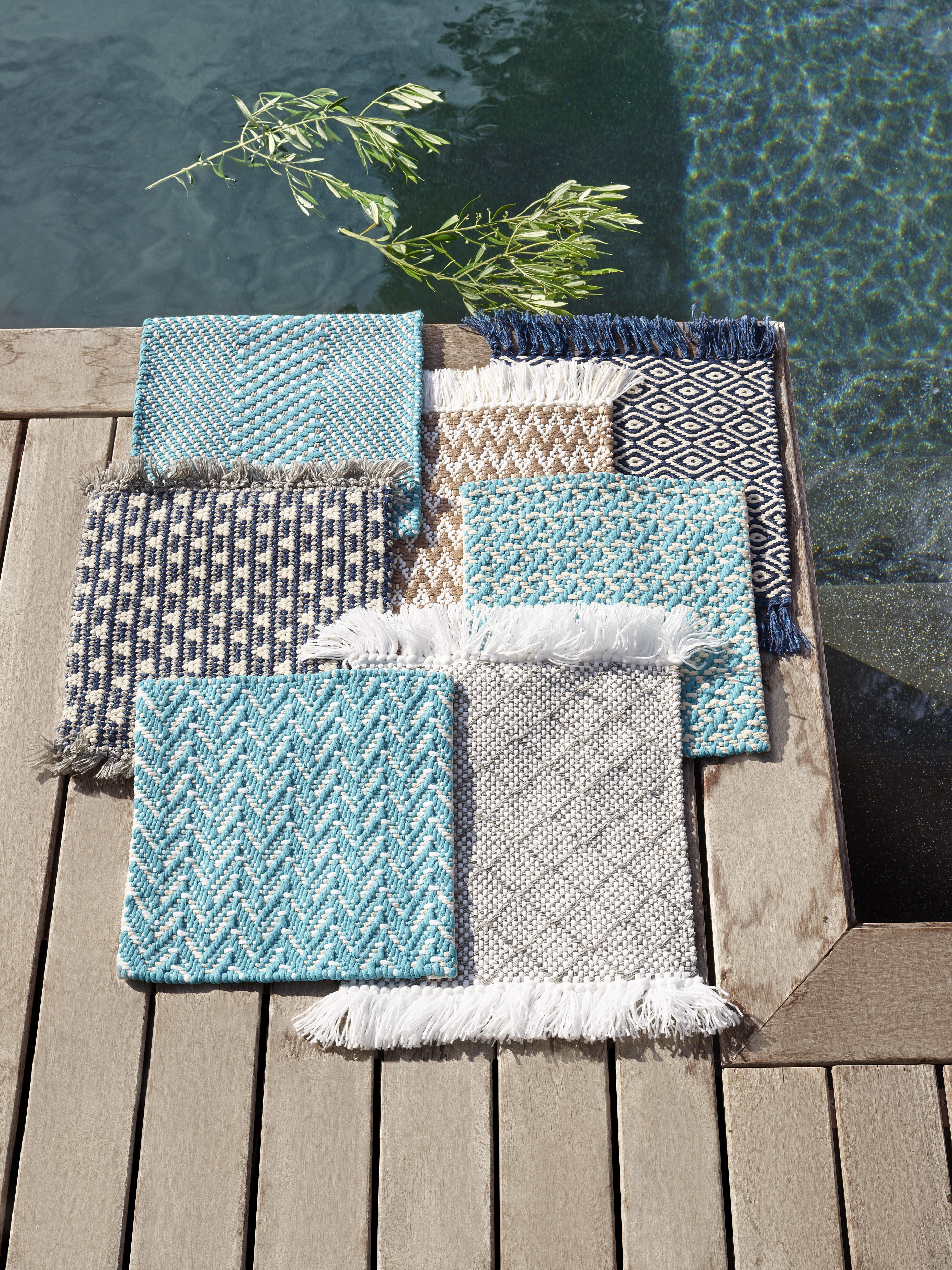 Photo: Pierre Frey Aquasoft Collection
There's nothing better underfoot than a luxurious rug – even when outdoors. Maison Pierre Frey offers a collection of stunning outdoor flat woven carpet made of 100% premium polypropylene fibers.
Two qualities of fiber are available:
Aquastrong for high-traffic areas, suitable for hospitality/contract applications.
Aquasoft for residential projects.
For a seamless flow from indoors to outdoors,
C&C Milano
's collection of weather and stain-resistant outdoor carpet allows you to merge the two seamlessly. Inspired by natural fibers, this collection provides rich texture and relaxed elegance that's perfect for an outdoor living room.
Lighting: Boyd Lighting and Vaughan Designs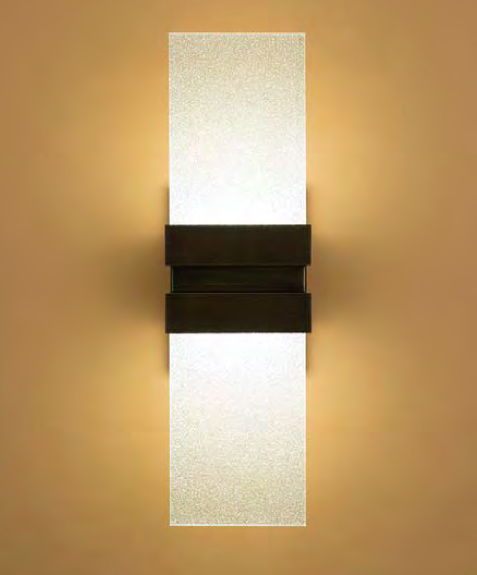 Complete your outdoor space with lighting from Boyd. The Tonic fixture is an oversized sconce that makes a dramatic statement. With its low profile and energy-efficient lamping, the
Tonic
is a great choice for residential, commercial, and hospitality projects.
Vaughan Designs
offers lovely choices for a more traditional aesthetic. We love the
Downton
fixture - inspired by a 19th century English design, this handcrafted lantern has a distinctive ball shaped ornament at its crown.
​Now if you'll excuse me, it's time for me to totter off with my Pimm's Cup and return to a state of repose in my garden.